Every month we give you an update on the most interesting events of the past month. This can be completed projects, an interview with an Liquid Rubber applicator, an update of our sponsor activities and many more. Some complete projects are large (in terms of volume), others are smaller, but this way you get an impression of the many possibilities with Liquid Rubber.
Would you like to receive the newsletter each month by e-mail? Sign up for our newsletter by sending an e-mail to marketing@liquidrubbereurope.com
Below you'll find all the highlights of the newsletter or click here for the full newsletter.
Project: Foundation-wall waterproofing Liquid Rubber HBS200

Description: Concrete connections are often critial points in a construction. Specially when it concerns a basement. Ground water will always try to penetrate in through the weakest spots in the construction. A good waterproofing in this specific connection is very important.
This foundation-wall connection was firstly thouroughly cleaned. The Liquid Rubber HBS200 was applied directly on to the concrete wall and the foundation. A Geotextile was directly placed in the 90˚ while the Liquid Rubber was still wet. A second layer of Liquid Rubber HBS200 was brushed on top of the Geotextile.
The product cures into a fully seamless and highly flexible membrane with a flexibility of 900%. A durable way of sealing this common detail.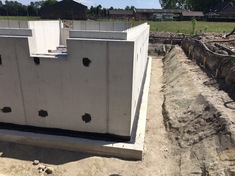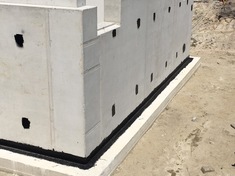 Project: Hottub waterproofing with Liquid Rubber

Description: In Finland they are very creative. As you can see on the pictures of the project below. They built a frame out of an old steel container. The frame was insulated with XPS insulation panels. All the joints of the insulation panels are covered with a specific tape. After that they asked the Liquid Rubber applicator to waterproof the entire construction.
The applicator applied a flatcoat on the surface to remove the porousness of the XPS. After this layer was fully dryed, a 2mm thick layer of Liquid Rubber SprayGrade was installed. The product is fully seamless and highly flexible. Because it is a liquid applied system, it can easily over all the difficult corners and upstands.
When the entire application is fully dry, they will start using the hottub outside. A very creative mindset and we love that Liquid Rubber is a part of it.
The client is happy, so are we!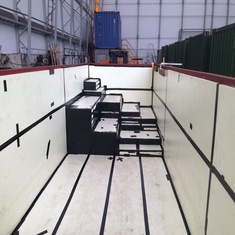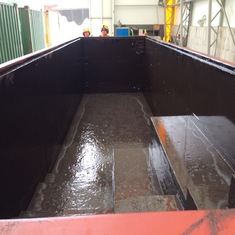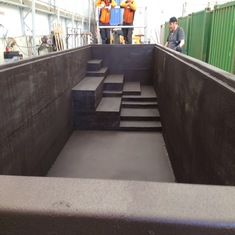 Project: Waterproofing outlets with Liquid Rubber HBS200
Description: A very common problem is to realize a good waterproofing solution around pipes and outlets. Outlets come in all sizes and materials. They are usually made of plastics like PVC, PE, PP or Aluminium. These are usually difficult surfaces for waterproofing products to adhere on. Luckily, Liquid Rubber adheres perfectly to those surfaces. Combined with the fact that Liquid Rubber HBS200 is very easy to install makes it the perfect product to seal pipes and outlets.
On this job the surface that needed to be treated was cleaned very well. Then Liquid Rubber HBS200 was applied around the outlets and on the surface. A Geotextile was placed in the still wet Liquid Rubber. Afterwards a second layer of Liquid Rubber HBS200 was applied on top of the Geotextile.
A very easy installation but a very durable way of sealing an outlet. Liquid Rubber has an perfect adhesion and a very high flexibility of 900%. More than enough for the movement of the outlets.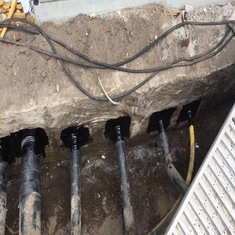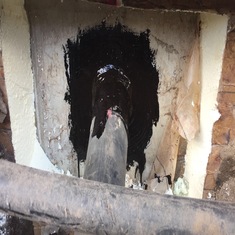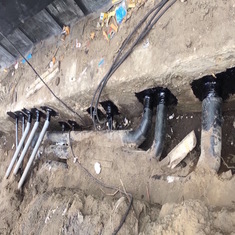 Liquid Rubber at full speed!
At Liquid Rubber Europe, everybody has an association or passion for speed, racing, cars or bikes. During our anual company trip we chose to start the day with a outdoor karting session.
It all started with a warmup followed by a qualification of 20 minutes. After a short brake we got back in our go karts again and entered the race with all of us.
The go karts were really fast and the track was amazing. We all had a blast and a lot to alk about over dinner. Everybody left the track without any injuries and a big smile. For us that's a success.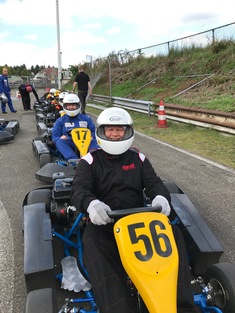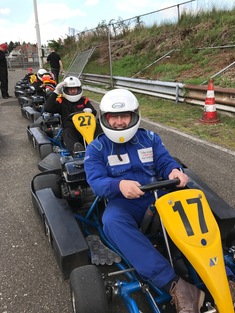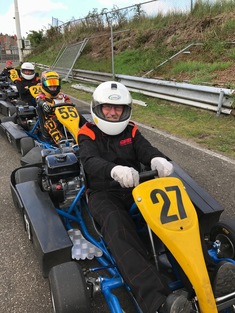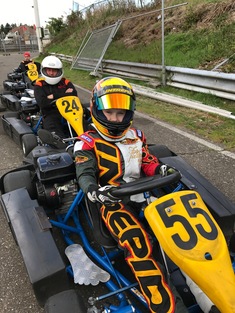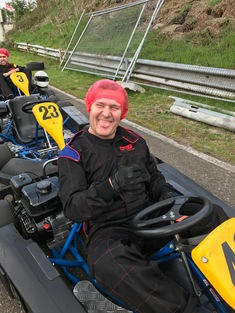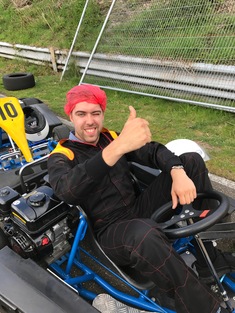 Follow us on Facebook, Twitter and YouTube.
On our social media account we post informative, interesting and entertaining posts. On YouTube we post videos that are informative and demonstrate the large number of possibilities of our product range. Besides following our developments you can also share your opinion about Liquid Rubber with the rest of the world.
Click the following buttons to follow Liquid Rubber Europe.